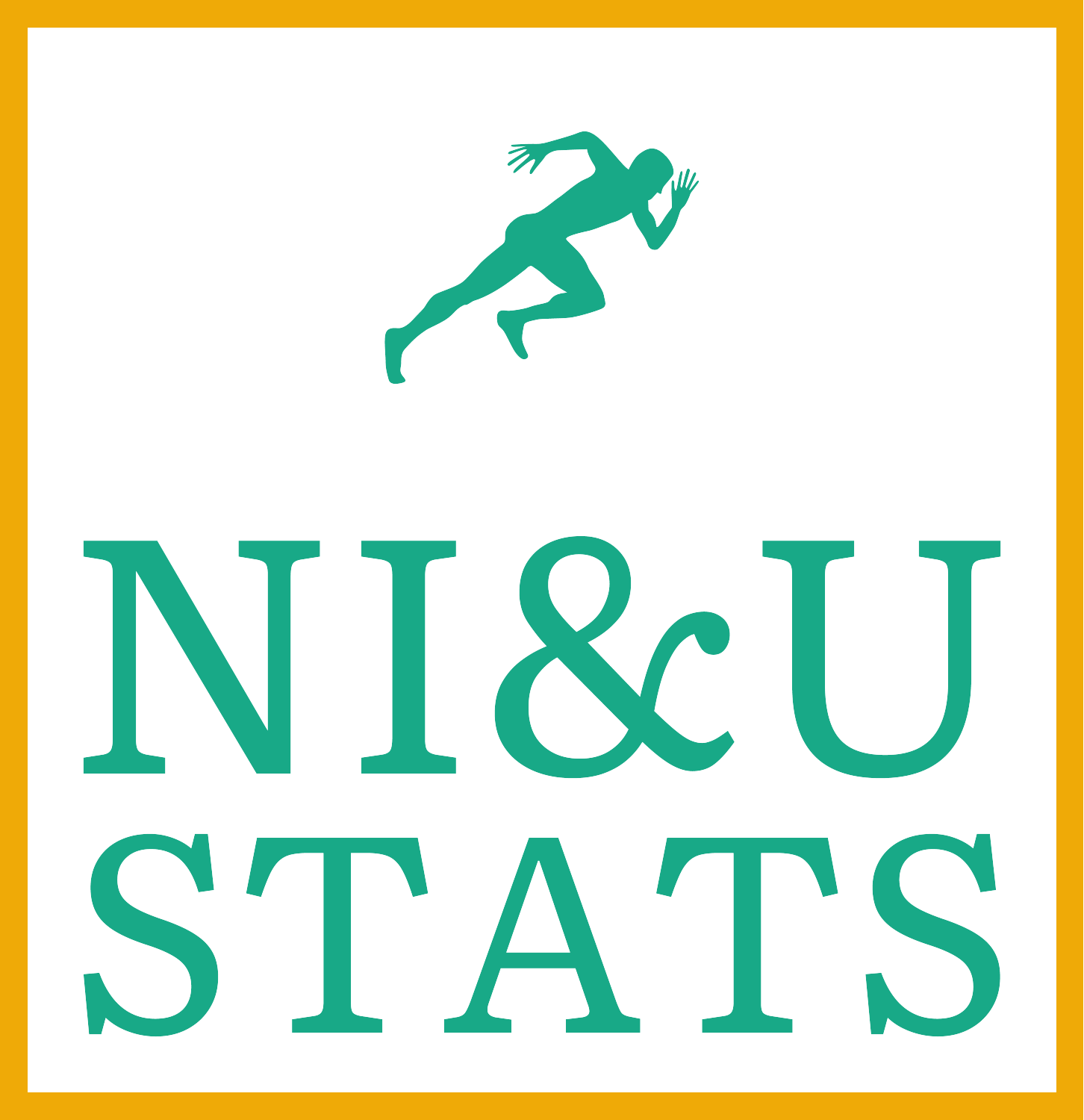 The 6th May 2021 sees the launch of a new website which is aimed at bringing together in one place the statistical history behind Track and Field athletics in both Northern Ireland and the nine counties of Ulster.

None of this would have been possible had it not been for the strange times we have experienced over the past year when the population has been virtually locked up in their own homes. For some there was still work to be done either virtually or in looking after and teaching children. Since I am retired and my children have flown the coop (almost) I had the choice of watching Neighbours, interminable quiz shows, gardening and house renovation etc or locking myself away in the loft with all my accumulated athletics detritus and trying to firstly transfer it to a computer and then find a suitable platform for disseminating everything as widely as possible to those who might be interested.

At the same time others were seeking information to satisfy their urge for athletics data, not least Pierce O'Callaghan who requested details of Ulster Schools winners in both track and field and cross country.

Where is all the data coming from? Well within weeks of joining an athletics club (Duncairn Nomads) in 1962, I took out a subscription to Athletics Weekly. Over the years the magazines joined the 'library' including Jogging, Marathon, Athletics Arena and others. In the early 1970's I became a member of NUTS - the National Union of Track and Field Statisticians - and with that membership came the Annual British Athletics yearbook of rankings. Early retirement over ten years ago found me in the Belfast Public Newspaper Library poring through the Newsletter, Belfast Telegraph and best of the all the Ireland's Saturday Night when to my amazement I discover that the sport of athletics was covered very comprehensively - a far cry from today's mediocre coverage (in quantity that is not quality).

My biggest inspirations in the keeping of statistics were Sean and Maeve Kyle and thanks to their generosity I was able to acquire data from the years long before I became involved. Other little gems were discovered including male Ranking lists from the 1970's compiled by Brian Rowan who would go on to bigger and better things as one of the countries leading political journalists. I was also lucky to have the assistance of Alan Keys who was responsible for NI male Rankings for three decades.

While my contribution is essentially confined to Northern Ireland statistics I am pleased to say I have found a kindred spirit (i.e. another geek) who is equally interested in the present and past exploits of athletes affiliated to the Ulster Athletics Council. Paul O'Neill has been an invaluable help in the setting up of the website also spending endless Lockdown hours sourcing and typing up data.

I would also like to acknowledge the support of Athletics NI who felt that the project was worthwhile.


1950 - LIONS and OLYMPIANS
Even a casual glance at the rankings in the 1950'S will show the dominance of a very few clubs most of which are either no longer active or have drifted away from Track and Field. The disciplines of Track and Field were essentially for the educated middle class and those in uniform. The Ulster Schools were limited to Grammar Schools and those who graduated to University went, in the main to Queen's. The Royal Ulster Constabulary were both promoters of major international events, with the annual RUC Sports, and provided a very strong all round team in the Athletics League. With the League requiring that all events be covered clubs like Shorts AC, Albert Foundry and Willowfield had to nurture throwers and jumpers.

The appearance of foreign students at Queen's and members of the armed forces, stationed in the country, also had an impact on the lists with a few memorable names appearing. In the age where 'Black lives matter' and 'inclusivity' are watchwords, Queen's University Athletics was way ahead of its time. At one stage during the 1950's the posts of Captain, Vice Captain and Secretary were all held by black athletes from Ghana. Representatives of the Army, Navy and Royal Air Force also made an impact locally with two Mike's being of special interest. Mike Ralph who topped the Long and Triple Jump lists would go on to represent Great Britain and Norther Ireland in the Olympic Games. Being speared by a javelin at an early age in a near fatal accident did not deter Colonel Mike Campbell-Lamerton form continuing to be an athlete but it was in Rugby Union that he was to make his mark on history captaining Scotland and touring with the British and Irish Lions. Incidentally his was not the only link with rugby as Dave Davidson who consistently headed the Shot Putt rankings was later to produce a son called Jeremy who would also grace a British and Irish Lions Shirt.

But it was not just visitors who were worthy of interest. The 1950's produced some outstanding athletes who excelled not just at Cherryvale and Ormeau Park but on the World scene. Richard 'Dick' Milligan broke the Irish Native Javelin record on seven occasions with top figures of 75.04 metres which was not beaten by an Irishman for over 20 years. He represent his country at both Empire (Commonwealth) Games and the Helsinki Olympics where he made the final. It was another 32 years before another British or Irish athlete would equal that feat.

Another who made his mark in the Empire Games, this time in Vancouver, was Victor Milligan. The former RBAI student went to Queen's where he proceeded to break middle distance records, doing most of his training round the pitches of Cherryvale Playing Fields. Such was his success that he found himself lining up alongside Roger Bannister and Jim Landy in what was dubbed the Mile of the Century. While these two sub four minute milers battled it out for Gold, Victor Milligan just missed out on joining them on the podium by finishing 4th.

While men's athletics was well established the 1950's found the women's branch of the sport in its infancy. The first NIWAAA Championships took place in 1950 and in 1953 there were only 10 clubs in the country with Ladies sections (Albert FOundry; Collegians LAC; Derry Olympians ; OWLS LAC; Stranmillis WTAC; Queens UBLAC; Short and Harland LAC; Stranmillis LAC and WIllowfield LAC). Throughout the next decade opportunities were limited but this did not stop three women from stamping their mark on the sport worldwide. The names of Maeve Kyle, Thelma Hopkins and Mary Peters were seldom out of the lists and for a whole variety of events. Maeve of course would make history as the first Irishwoman to compete for Ireland in the Olympic Games, Thelma broke the World Record for the High Jump at the aforementioned Cherryvale grounds on 5th May 1956 and M E Peters as she appeared at the time has become the name synonymous with Track and Field in Northern Ireland following her Olympic Gold Medal in Munich and her subsequent efforts to provide a quality track for future aspiring athletes.